RANDOM
R-based Analyzer for Numerical Domains
Last version: 0.3.1 - 19/6/2012
Authors: Gianluca Amato, Maurizio Parton and Francesca Scozzari
Random is a static analyzer of programs, based on the theory of abstract interpretation. It can analyze simple imperative R programs (with the standard constructs while, for, if-then-else) with 4 abstract domains: intervals, template parallelotopes, a combination of intervals and template parallelotopes and, finally, general (non-template) parallelotopes. Template parallelotopes are a family of new abstract domains recently introduced in "Deriving numerical abstract domains via Principal Component Analysis", SAS 2010 and "Discovering invariants via Simple Component Analysis ", JSC 2011.
For a brief presentation of the tool Random you may read
"Random: R-based Analyzer for Numerical DOMains", LPAR 2012.

Download the analyzer: random-0.3.1.tgz.

Screenshots: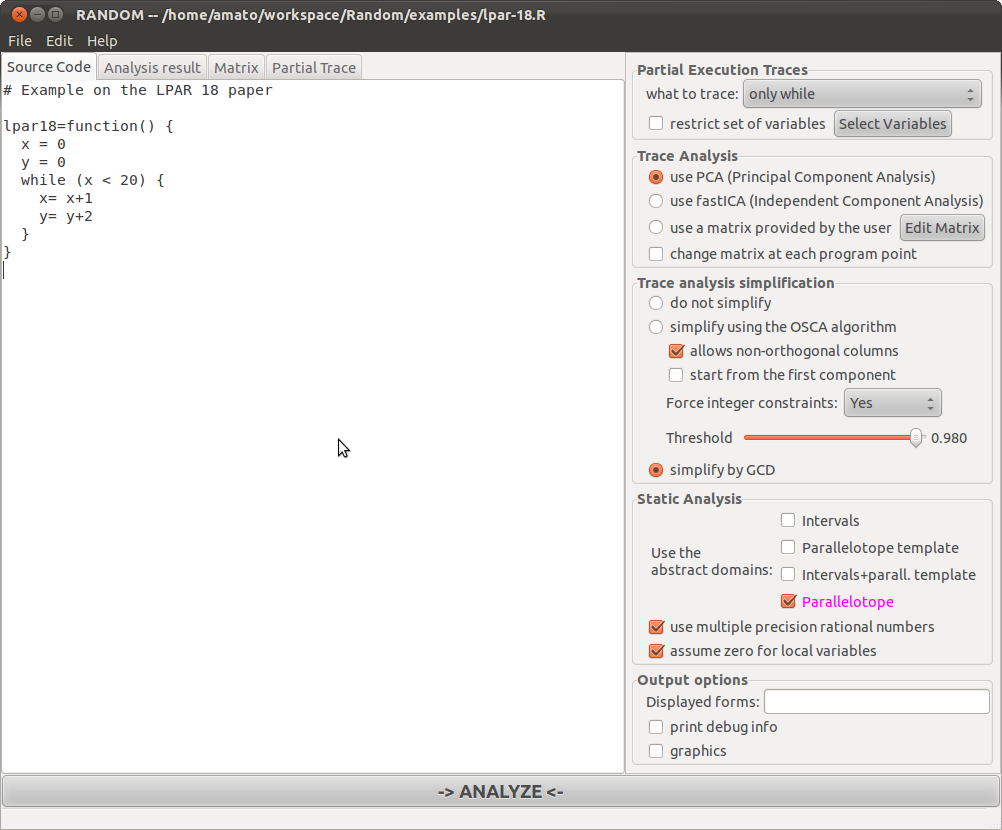 The analyzer has been tested on Ubuntu Linux, but it should work on any Linux distribution.
You need:
R - the interactive environment with the additional packages RGtk2 and CairoDevice

(on Ubuntu install the packages r-recommended, r-cran-rgtk2, r-cran-cairodevice)

GNU Multiple Precision Arithmetic Library with the development library (on Ubuntu install libgmp, libgmp-dev)

gcc – or another equivalent C compiler
How to start:
Download random-0.3.1.tgz into a folder and unpack it

run 'R' from the folder where Random has been installed

from the R prompt, type:

install.packages("gmp")
install.packages("ieeeround")
install.packages("fastICA")
install.packages("proto")

This is only needed the first time you execute Random, in order to install required packages. Please note that the you need at least version 0.5.1 of the gmp package.

from the R prompt, type source("random.R").
---
Random is a prototype, which is currently under development at University of Chieti-Pescara, Italy. For any information, you may contact g.amato@unich.it and scozzari@sci.unich.it
Disclaimer: the analyzer is distribuited without any warrant of any kind, under the terms of the GNU GPLv3.
Older versions of Random are also available.